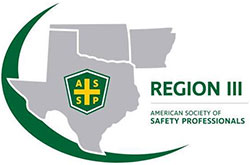 The American Society of Safety Professionals, also known as ASSP, is the oldest and largest professional safety organization in the world. ASSP fosters the development of technical, scientific, managerial, ethical knowledge, and competency of safety, health and environmental professionals. As Safety Professionals, we use these skills for the protection of people, property, and the environment. A key mission of ASSP is to promote the advancement of the safety profession.
For more than 100 years, we have provided education, standards development, advocacy and a professional community to support the advancement of our members and the profession as a whole. Our members are dedicated to creating safe work environments by preventing workplace fatalities, injuries and illnesses. Sound safety practices are both socially responsible and good business, leading to increased productivity, a better reputation and higher employee satisfaction.
Our Chapter
The ASSP South Texas Chapter was chartered on October 5th, 1945 and has approximately 350 members. The purpose of our Chapter is to promote the advancement of the safety profession and provide leadership, networking, and professional development opportunities for our members.
The South Texas Chapter is located in ASSP Region III – Area 1 and serves a geographical area that includes:
Texas (26 counties):
Atascosa
Bandera
Bexar
Comal
Edwards
Frio
Gillespie
Gonzales
Guadalupe
Kendall
Kerr
Kimble
Kinney
La Salle
Live Oak
McMullan
Maverick
Medina
Menard
Pearl
Schleicher
Sutton
Val Verde
Webb